Welcome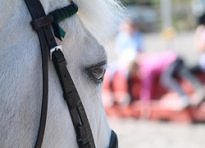 SMS Equestrian is run by Sarah Mitchell-Sheppard, a qualified BHS Instructor.
Sarah teaches from her yard in Fovant where she has a selection of horses for all ages and abilities. She is equally happy to go and teach clients in their own homes on their own horses. Clients are also welcome to bring their horses to her yard and use her facilities.
SMS Equestrian prides itself on being fun and friendly and Sarah runs a hugely popular Saturday 'Cherpies Club' for young enthusiasts. There is always something to be involved in for adults and children - from group hacks to competitions and trips to events.


"In the 18 months since she has been teaching me, Sarah has completely changed the way I ride - it's not just the skills she has taught me, but the confidence and self belief that she has given me."
Welcome to our new online booking system -
The booking calendar will be available one month in advance at all times - available slots will be shown once you have clicked on your required service and with your prefered instructor.
Please note payment will be required to confirm booking - lesson cancellations made less than 2 days before the lesson time will be non refundable.
All pony clubs/holidays clubs/under 5 groups are still to be booked with Sarah and payment can be made on the day.